Ultimate C | 90g - One Time
Nature's Ultimate Self Defense Drink
Ultimate C provides vital defense for your body and is a certified organic whole food Vitamin C formula made from a blend of 11 nutrient-dense superberries and superfruits rich in vitamins, minerals, antioxidants, flavonoids, and enzymes for ultimate vitality. 
Humans cannot create our own Vitamin C so we look to nature for the highest quality wild super berries and exotic superfruits to provide a potent daily dose. Vitamin C is a powerful vitamin for immune defense, skin and tissue repair, heart health, slowing down aging, and preventing disease. 
$0
You save $40 each month
11
Superberries
& Superfruits

Ingredients
Raw food-based nutrients which deliver more powerful benefits
Vegan, Kosher, Non-GMO, and Gluten-Free
Benefits
Superfoods Help Boost Your Body Inside and Out
* A daily Vitamin C dose to help boost immune defense against viruses, pathogens and chronic disease
* Give yourself glowing skin, healthy teeth and gums
* Nutrition to help support collagen production throughout the body
* Nutritional support for healthy aging
* Valuable vitamins and minerals for optimal cellular function
* Certified Organic, Vegan, Kosher, Non-GMO, and Gluten-Free
* There are so many benefits that you will enjoy!


Is your Vitamin C Organic or Synthetic?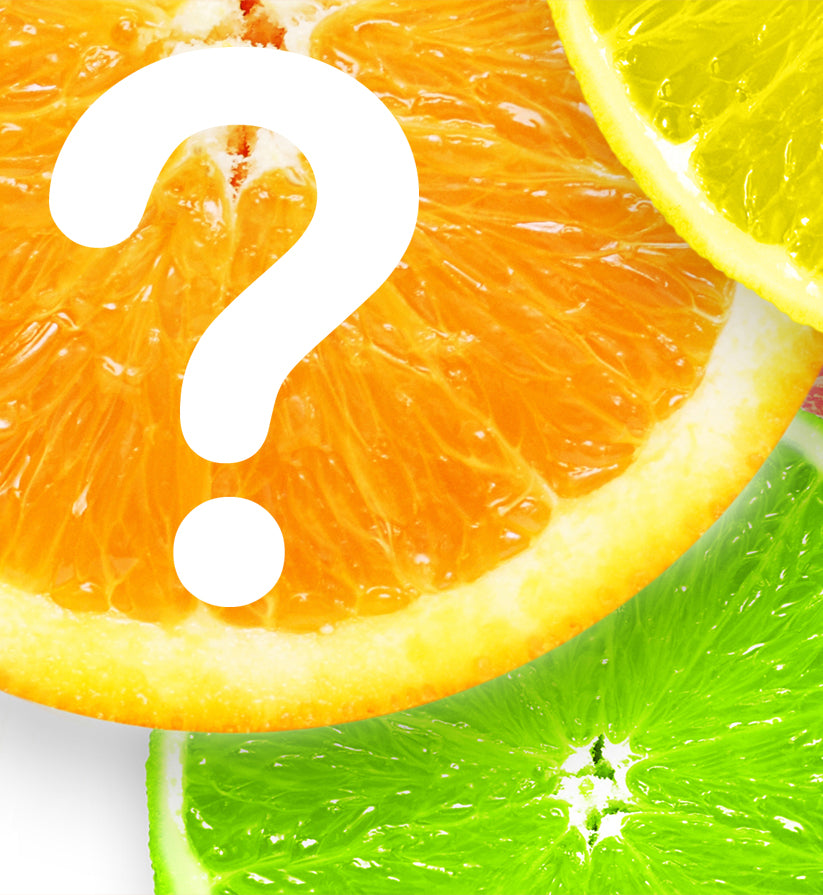 Most Vitamin C products in the marketplace are derived from synthetic ingredients such as ascorbic acid extracted from corn syrup (sometimes even GMO corn). Synthetic, artificial ingredients do not absorb as well as fruits and berries because they lack enzymes and other co-factors that fruits and vegetables have to help boost absorption in our gut and efficacy in our body, for it to be able to recognize and use them. Synthetic Vitamin C can be irritating to the digestive system, and may actually cause oxidative damage to your body.


Read More on the study here
Why choose Ultimate C?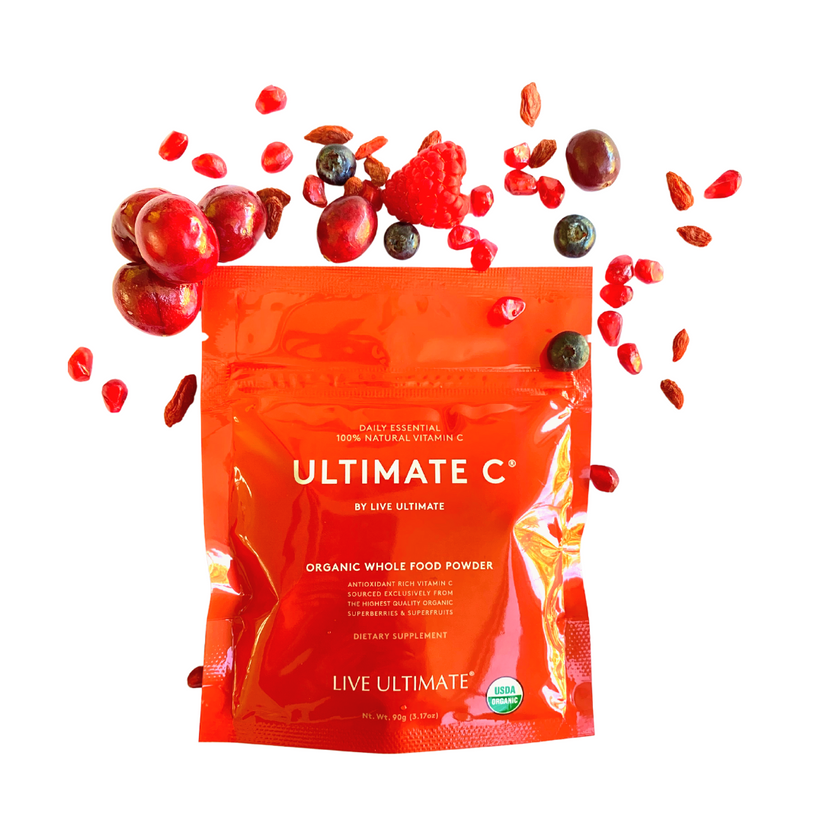 We created Ultimate C to be so much more than just an isolated Vitamin C product like ascorbic acid found in multivitamins and sports drinks. Packed with 13 of the most nutrient-dense superberries and superfruits it contains a multitude of vitamins, minerals, antioxidants, polyphenols, enzymes, and valuable flavonoid co-factors which have more effective and more powerful benefits. Ultimate C is made exclusively from raw whole superfruits with no fillers or flavors added.

Experience the difference of 100% pure and natural ultimate defense in an easy-to-mix powder and pleasant-tasting daily immunity drink.
Your new daily ritual
Mix one packet of Ultimate C with water, tea, juice, or your favorite smoothie to help boost your immunity, bolster heart and skin health, prevent disease, and slow aging. Tear, pour, blend and enjoy!
Ultimate C is best taken on an empty stomach in a glass of room temperature or cold water. Do not use hot liquids as vitamins and raw nutrients are destroyed at temperatures above 112F.
You can take Ultimate C several times a day safely as Vitamin C is a water-soluble vitamin and our body only absorbs what it needs and flushes the rest out.
Vitamin C is known to boost absorption when added to other superfoods and functional mushrooms. So we recommend combining with The Ultimate Elixir and Ultimate Shrooms to boost the absorption.
Pro Tips that maximize results
You can't control everything in your life, but you can control what you put in your body
Check our purity and authentification certificates
Frequently Asked Questions
What is vitamin C?
Vitamin C is also known as ascorbic acid, L-ascorbic acid, or ascorbate. It is an essential vitamin that's naturally synthesized in the livers of most mammals from blood sugar (glucose) as needed. Humans however lack an enzyme required for this internal production of the vitamin, so we must get it in our foods every day, and the best way is as a whole-fruit matrix of vitamin C and its important cofactors.
What does vitamin C do in our bodies?
Vitamin C is essential for biochemical processes, the formation of collagen and healthy connective tissue, mobilization of iron and other micronutrients, immune system function, and as an antioxidant for scavenging of reactive free radicals.*
Can you take more than once a day?
Yes, you can take it several times a day or as needed when a daily dose is not enough. This is a very large 3 gram dose (versus 500mg in most formulas) but since these superfruits are water soluble, your body will absorb what it can and flush what it can't. During times of stress, travel and sickness, taking it more than once a day can be very beneficial.
Why is it better to use a whole food powder versus capsule or tablet?
Absorption and assimilation is much higher in a powder versus tablet or capsule. It's also easier on your throat and gut. Powder is the most natural way to consume raw superfruits since nothing is destroyed (vitamins, minerals or enzymes) as often happens during the processing of tablets or capsules. We also add zero fillers, cheap ingredients or excipients as most tablets and capsules use.
How does it taste?
It has a very pleasant sour flavor similar to cherry but with zero sweetness and no added sugars.
Do you provide 3rd party tests and Certificates of Analysis (COAs)?
Yes, we believe in transparency, sustainability and the power of 3rd party testing. Please email
contact@liveultimate.com
to receive any available tests and COAs.
What are flavonoids?
From
Healthline.com
, flavonoids are various compounds found naturally in many fruits and vegetables. They're also in plant products like wine, tea, and chocolate. There are six different types of flavonoids found in food, and each kind is broken down by your body in a different way. Flavonoids are rich in antioxidant activity and can help your body ward off everyday toxins. Including more flavonoids in your diet is a great way to help your body stay healthy and potentially decrease your risk of some chronic health conditions. More info can be found at
https://www.healthline.com/health/what-are-flavonoids-everything-you-need-to-know
What is the source of citric acid in Ultimate C?
The bio-fermentation of glucose. It is considered an organic and natural plant-based ingredient.
Why do you add organic citric acid to the formula?
Primarily as a preservative to protect the integrity of the raw ingredients. It also helps with mineral absorption.
How many servings can you take in 1 day?
As many as needed since Vitamin C is a water-based vitamin and your body will flush any it cannot use.
Is there any research or evidence to back up your claims and benefits?
Uncompromising Standards
100% of our ingredients are certified organic under the USDA National Organic Program, verified by QAI (Quality Assurance International).
All of our products are produced in a GMP-certified (Good Manufacturing Practices) U.S. facility with rigorous safety standards for superior quality.
Free of Genetically Modified Ingredients (GMOs) by the USDA Process Verified Program.
All of our products are certified vegan by Vegan.org ensuring they do not contain any animal products or by-products and have not been tested on animals.
The Leaping Bunny Program is the gold-standard in cruelty-free certification for personal care and household products companies, signifies no animal testing at any stage of product development and is verified by Cruelty Free International.
The three standards defining this food certification are: safety, minimally processed and bioavailable nutrients.
An eco-conscious, sustainable alternative to PET plastic and other petroleum-based, non-renewable materials.
Nothing artificial or synthetic (including color additives, toxic pesticides, and genetically modified organisms) has been included in, or has been added to, our products that would not normally be expected to be in that food.
Our products do not contain any gluten in accordance with US FDA guidelines, verified by ELISA testing.
Our products are proudly created and produced in the USA in accordance with the Federal Trade Commission's Enforcement Policy Statement for U.S.-Origin Claims.
Certified kosher means a product is fit for consumption by observant Jews. Our products are certified by OK Kosher to comply with a strict policy of kosher food laws, including cleanliness, purity and quality.
We send our products to an outside, unbiased lab for testing to ensure our products meet our uncompromising standards and to ensure that what is on our labels is actually inside the product.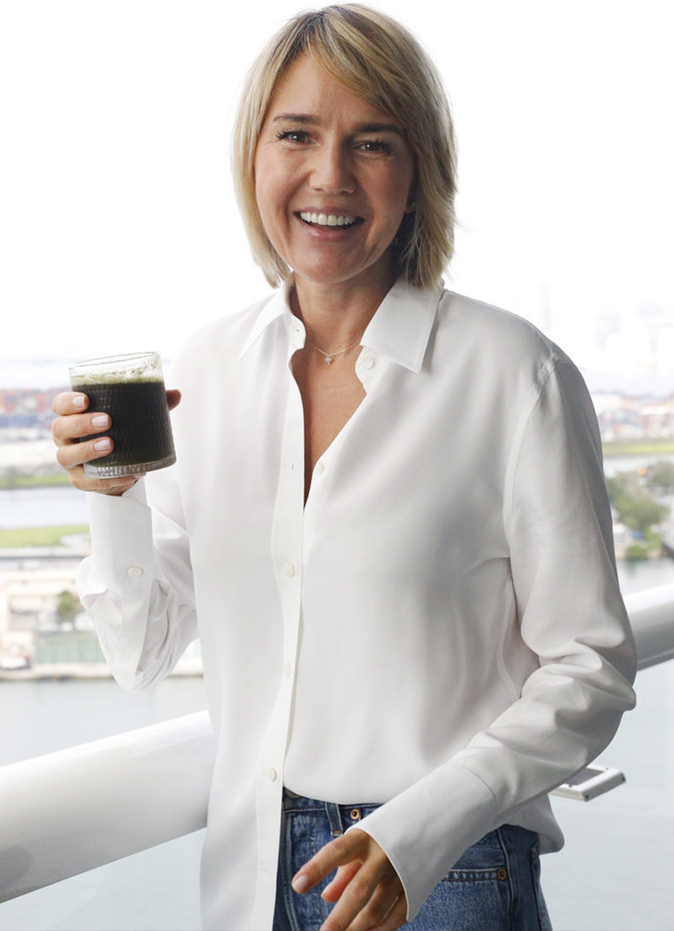 Choosing a selection results in a full page refresh.